Welcome to the first (or maybe next) step to a healthier you.
Wherever you are now one thing is for certain, you either aren't in your ideal healing environment and are dealing with signs of imbalance in your body OR you are exactly where you need to be but are looking for other people willing to make choices against the cultural norm in the name of better health.
Whichever path you are on right now, I am so excited to have you part of our Wellness Travelers Family!!
I offer 3 levels of support so you can pick the one that is right for you. You can even change paths if you find yourself hungering for more private support or 'graduating' to less private support. Simply reach out to me to help make that change as smooth as possible.
You'll see a one time fee to the higher levels of membership. This fee is for your discounted comprehensive health history review, which is mandatory for these upper levels. If you have already had that service, please reach out for your coupon code.
NOTE: The silver level can add on this health history review as well as an option at a slightly higher price. Anyone interested in this service but not interested at this time in a monthly membership can also choose this option.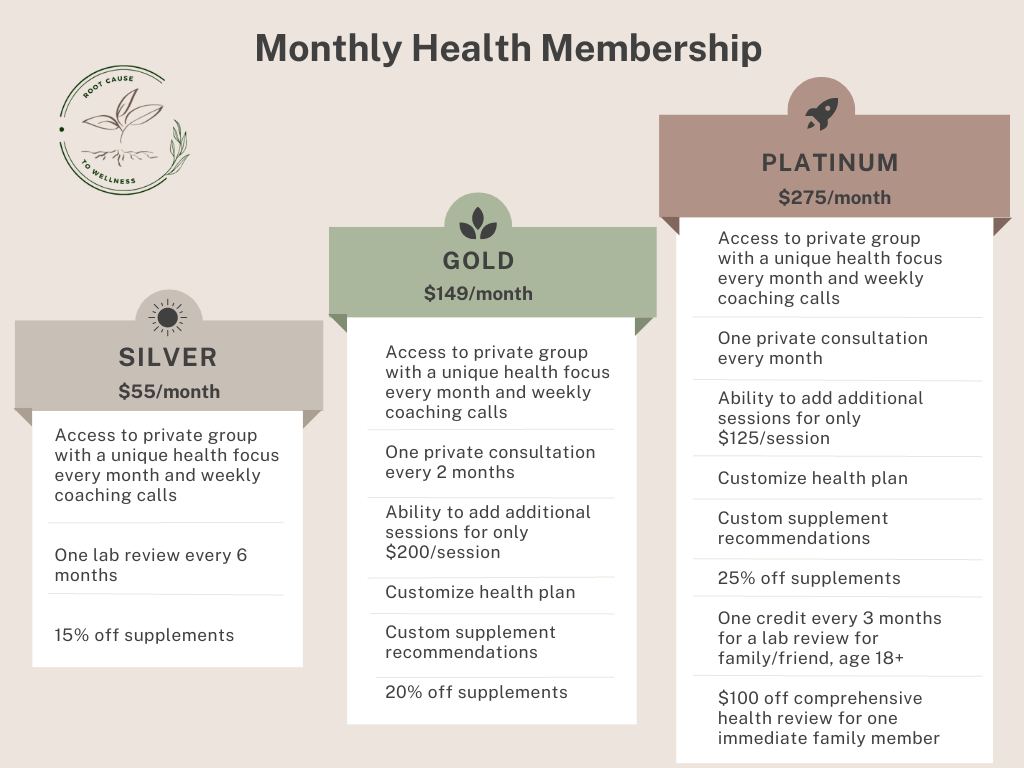 Not pictured above is complimentary access to my flagship Foundations of Health course available at the Platinum level (other levels can purchase this course as an add-on). This course will provide additional guidance and resources to help you on this journey.
The length of your membership is at your discretion. It is advised to commit for at least 4 months as that is the amount of time needed to make a true sustained change in your life. Please understand that due to personal nature of each person's journey that there is no way to know how long the trip to get to your healing environment (and stay there) may take.
Please mark your planner for Thursdays from 6:15-7:30 CST for the weekly open Q&A calls. As we grow, additional times will be added to keep these calls fairly small.
And if you prefer to NOT be on Facebook, it's 100% okay! I'll be adding content here as well. Please let me know if you prefer not to use Facebook.